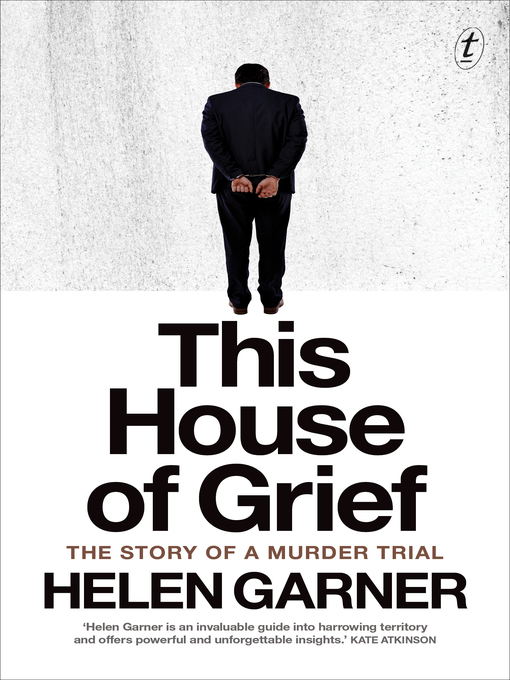 This House of Grief
The Story of A Murder Trial
eBook - 2014

Winner, Ned Kelly Awards, Best True Crime, 2015 A Times Literary Supplement Book of the Year, 2014 On the evening of 4 September 2005, Father's Day, Robert Farquharson, a separated husband, was driving his three sons home to their mother, Cindy, when his car left the road and plunged into a dam. The boys, aged ten, seven and two, drowned. Was this an act of revenge or a tragic accident? The court case became Helen Garner's obsession. She followed it on its protracted course until the final verdict. In this utterly compelling book, Helen Garner tells the story of a man and his broken life. She presents the theatre of the courtroom with its actors and audience, all gathered for the purpose of bearing witness to the truth, players in the extraordinary and unpredictable drama of the quest for justice. This House of Grief is a heartbreaking and unputdownable book by one of Australia's most admired writers. Helen Garner's first novel, Monkey Grip won the 1978 National Book Council Award, and was adapted for film in 1981. Since then she has published novels, short stories, essays, and feature journalism. In 1995 she published The First Stone, a controversial account of a Melbourne University sexual harassment case. Joe Cinque's Consolation (2004) was a non-fiction study of two murder trials in Canberra. In 2006 Helen Garner received the inaugural Melbourne Prize for Literature. Her most recent novel, The Spare Room (2008), won the Victorian Premier's Literary Award for Fiction, the Queensland Premier's Award for Fiction and the Barbara Jefferis Award, and has been translated into many languages. Helen Garner lives in Melbourne. 'This House of Grief (Text) is a gripping account of a murder trial in which few of the participants act and react in ways we might predict. It's an examination not just of what happened, but also of what we prefer to believe and what we cannot face believing.' Julian Barnes, Books of the Year, TLS'This House of Grief makes its complexity out of an honest vulnerability...Garner's book is superbly alive to the narrative dynamics of the case; she tells a grim story of unhappy marriage, limited social opportunity, bitter divorce, and spousal grievance. Again, as in The First Stone, what consumes her are the difficult questions that seem to lie beyond the reach of formal narration: the deepest assumptions of class and gender and power; the problem of how well we ever understand someone else's motives...Attracted and repelled, Garner circles around the unspeakable abysmal horror. Can any story "explain" why a man might murder his children? She doesn't pretend to possess the explosive answer, and frequently confesses stupefaction, but her book walks us along an engrossing and plausible narrative fuse...Her narrative is lit by lightning.' James Wood, New Yorker 'Helen Garner's account of the trial is a non-literary variation of Truman Capote's In Cold Blood (1966).' Eileen Battersby, Books of the Year, Irish Times 'Helen Garner is an invaluable guide into harrowing territory and offers powerful and unforgettable insights. This House of Grief, in its restraint and control, bears comparison with In Cold Blood.' Kate Atkinson 'As involving, heart-rending and unsettling a read as you could possibly find, a true-life account of three deaths and a trial that leaves you with a profound sense of unease as its drama unfolds, and disturbing questions about how we judge guilt and innocence.' The Times 'This House of Grief is a magnificent book about the majesty of...
Searching for more content…
Characteristics:
1 online resource
---
Opinion
From Library Staff
Comment
thebeadedlady
Mar 31, 2015
Similar to 'Joe Cinque's Consolation', Garner tells the story of the trial and subsequent retrial and appeal of Robert Farquharson, father of 'the boys in the dam'. Unlike a 'traditional' true crime book, she doesn't go into great detail about the lives of the people involved or endlessly outline... Read More »
---
From the critics
---
Community Activity
Notices
Add Notices
There are no notices for this title yet.
Quotes
Add a Quote
There are no quotes for this title yet.